What are Sisterlocks™️?
Sisterlocks™️ are a versatile natural hairstyle that consists of tiny-sized locks.  Instead of utilizing the twisting or palm rolling technique, Sisterlocks™️ are formed by using a specialized,  patented tool that builds the locks from the ends of the hair to the root.  This technique does not require the use of oils, waxes, gels, or other hair styling products to establish.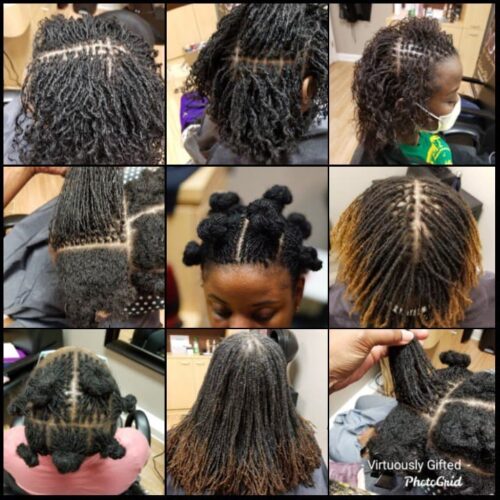 Are Sisterlocks™️ permanent?
Yes they are permanent.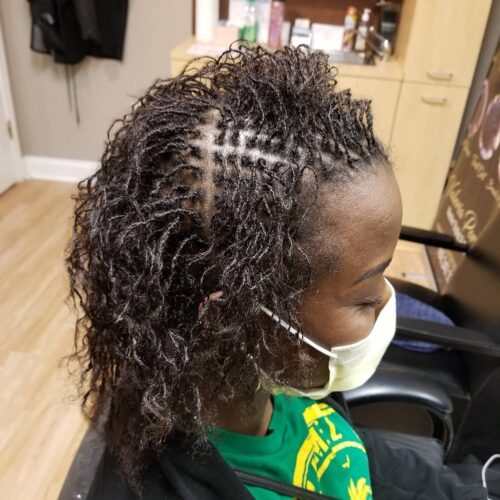 What's the difference between Sisterlocks™️ and Microlocs?
Sisterlocks™️ are established by utilizing a definitive interlocking process, a specific grid pattern, and a specialized tool. They must be installed and maintained by a Sisterlocks™️ consultant, a qualified trainee, or a practitioner.  Microlocs are smaller than most traditional locks as it pertains to size. They can be started and maintained with any method.  Although the grid pattern is similar, it is not specific. The most common techniques used are two strand twists or braids. Both methods require scheduled routine  maintenance (4 to 6 weeks)  for retightenings.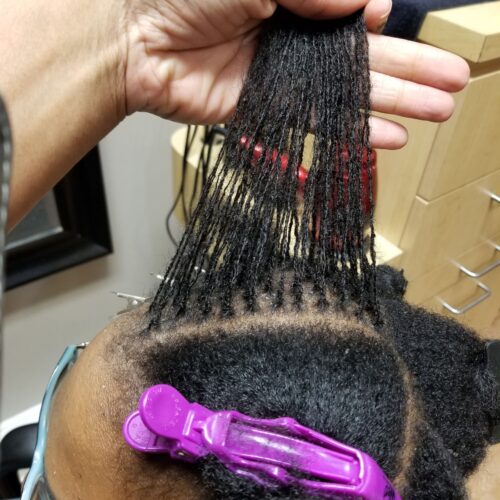 Are Sisterlocks™️ high maintenance?
Other than the initial cost to install them, Sisterlocks™️ are low maintenance. However they must be retightened on a regular basis, ranging anywhere from four to six weeks. Most find them convenient and easy to style and care for.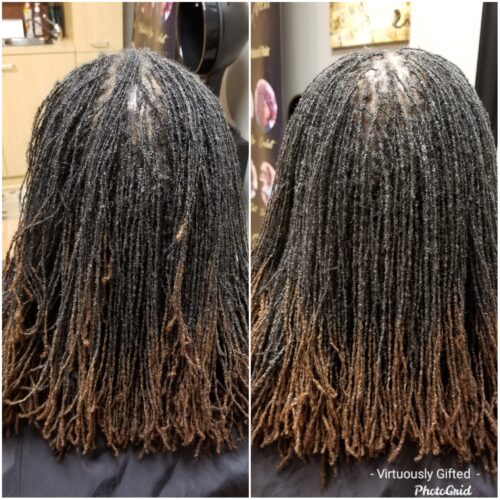 How much does it cost to start Sisterlocks™️?
Because of the many determining factors, such as density, length, curl pattern, and the skill of the consultant, there is no set cost. The price can range from $500 to over $2000. The final cost is between the consultant and the client.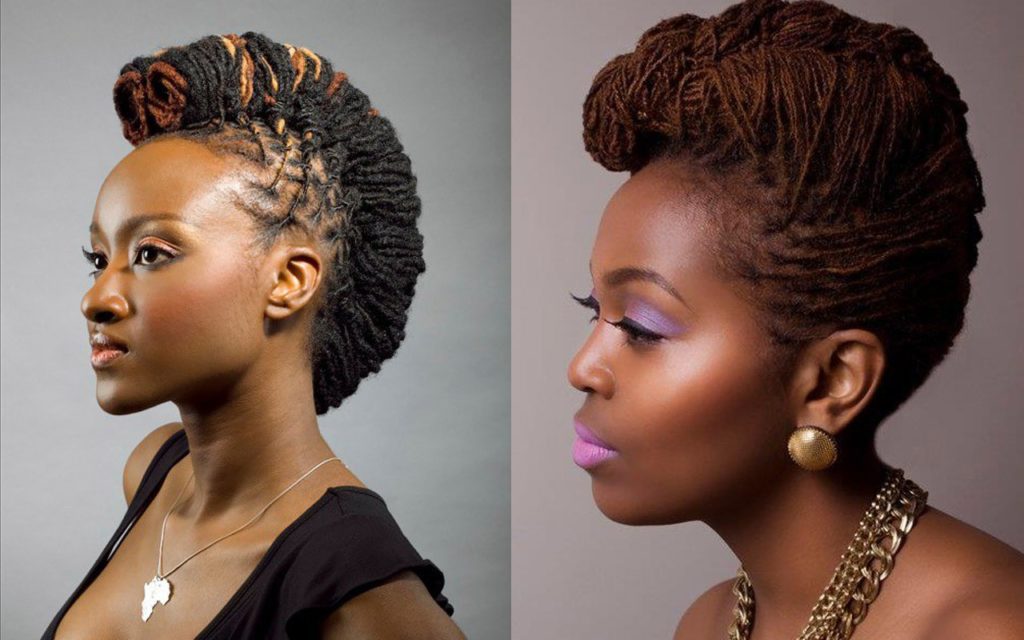 My hair is relaxed. Can I still start Sisterlocks
™️?
Yes, Sisterlocks can be started on relaxed hair. You will need to have at least 2 inches of new growth at the root. You can either cut off the relaxed ends or they can be twisted or braided for a more textured look. Then can be trimmed gradually or you can let them stay.  With patience, they will grow out naturally over a period of time.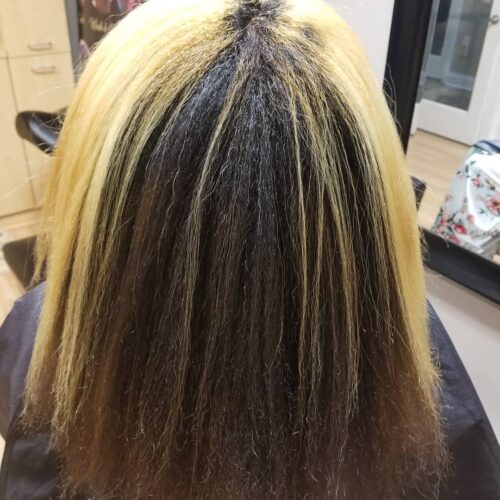 I am convinced. How do I  start my Sisterlocks™️ journey?
To start your Sisterlocks™️ journey, you must schedule a mandatory consultation with your trainee or consultant. You will be given specific instructions on how to prep your hair prior to the appointment as testlocks will be installed.  The purpose of installing sample lockis to ensure that the proper sizes and lock patterns are chosen. The goal is to alleviate any problems such as lumpy locks, excessive unraveling, and insufficient scalp coverage. The installation of test locks also gives a clear view of how the locks will look and feel in the client's hair.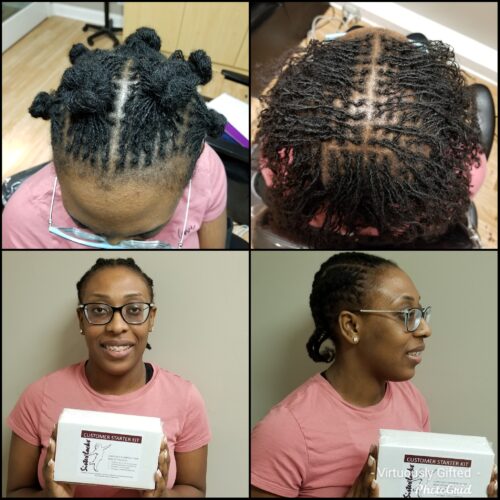 Fill out the form below to schedule your Sisterlocks™️ Consultation.
Our Top Rated Sisterlocks™️ Consultant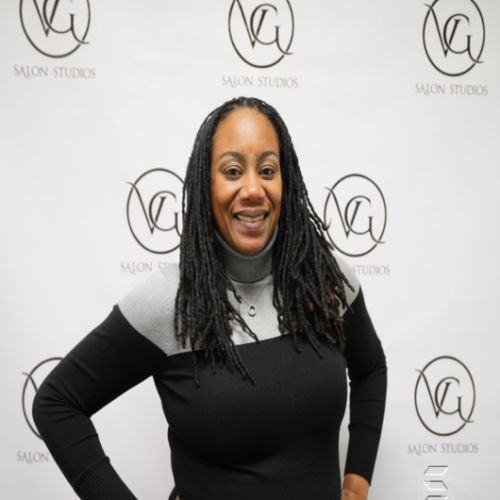 Satisfied Sisterlocks Client
She Started Her Journey Too
Sisterlocks Retightening (New Transfer Client)